NURTURING ENGINEERS OF THE FUTURE
Yas Marina Circuit, in collaboration with Abu Dhabi National Oil Company (ADNOC) is proud to announce the launch of ADNOC Yas in Schools Experience Centre, a youth-focused initiative that offers schools project-based STEM learning programmes. Students, aged 8-21 years old, learn essential skills across science, technology, engineering and mathematics in a fun and unique environment. Working together in small enterprising teams, students design, innovate, manufacture, test and race small-scale model cars to compete in school and external competitions. Yas in Schools aims to inspire and develop "The Engineers of the Future", equipping them with 21st Century skills and developing their passion for STEM subjects, while also providing teachers with exciting and easy-to-adopt themed programmes and resources for delivering a broad range of learning outcomes.
3STEM PROGRAMMES
14YEAR HISTORY
450+SCHOOLS
50,000+ STUDENTS
NATIONAL FINALS PRESENTED BY ADNOC 2023
This year's competition, setting a new benchmark with over 1,000 students from 224 teams, earned the title of World's Largest F1 in Schools National Finales! Congratulations to our Champions & a special thank you to all involved!
Formula Ethara National Champions: Phoenix Spirit – Abu Dhabi Indian School - Girls
Rookie Champions: Limitless Speed – Victory Heights Primary School
F1 in Schools National Champions: Aeolian Racing – JSS International School
Rookie Champions: Ecolyte – Horizon International School
4X4 in Schools National Champions: Crimson Gladiator – Rochester Institute of Technology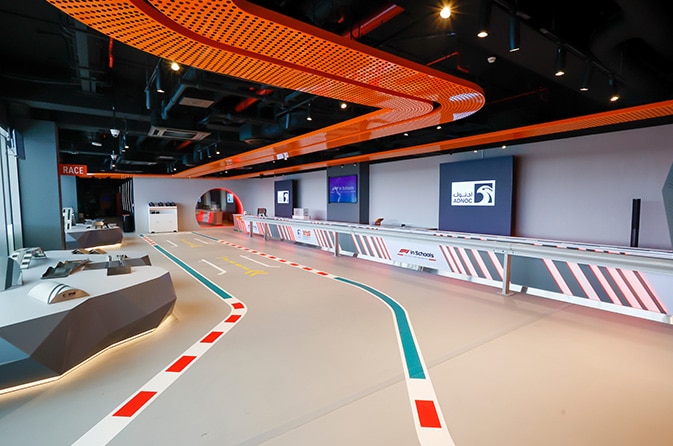 EMPOWERING YOUNG MINDS
ADNOC YAS IN SCHOOLS EXPERIENCE CENTRE
The Yas in Schools Experience Centre is set against the backdrop of our iconic Formula 1® racetrack and empowers students to explore the inspiring world of racing and engineering, supported by our incredible state-of-the-art resources and technology.
Features unforgettable challenges including Formula Ethara, F1 in Schools and 4x4 In Schools
Combines education with the excitement of being at the heart of a world-class racing circuit
To utilize Yas In Schools Experience Centre, bookings are required.