INSPIRING YOUNG MINDS
Running in the UAE since 2009, the Formula 1® STEM Challenge is one of the biggest international STEAM competitions in the world, seeing teams of 3 to 6 students plan, research, design, analyse, manufacture and test a miniature 'F1® car' using CAD/CAM/CNC tools.

These cars are powered by CO2 compressed gas and race a 20-meters distance in just over a second. Teams compete within their schools, nationally and regionally for a chance to represent the UAE at the F1® in Schools World Finals and become World Champions. The Challenge inspires students to learn more about physics, aerodynamics, design, manufacture, branding, graphics, sponsorship, marketing, leadership, teamwork, media skills and financial strategy, and apply them in a practical, imaginative, competitive and exciting way.
YAS IN SCHOOLS NATIONAL FINALS 2022
There were over 690 students from over 100 schools who took part in the finals, which were broadcast live on YAS TV, Yas Marina Circuit's official YouTube channel. Sidewinder from Hartwinder International School was crowned Rookie Champions, while Nautilus from JSS International School Dubai triumphed in the professional category.

Both teams will be competing in the upcoming F1 In Schools Finals.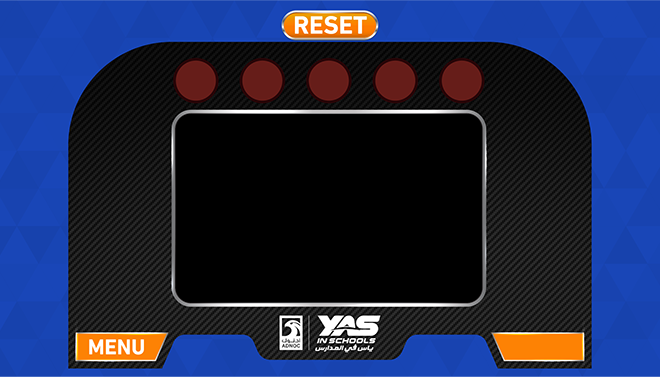 HOW FAST IS YOUR REACTION TIME?
Is your reaction speed as fast as an F1 driver? Can you beat your friends and classmates? An important part of Racing Formula Ethara and F1 in Schools program is having a quick reaction time. During the racing, there's a 20-meter racetrack with special start and finish gate timing equipment. When each racer is ready, there's a countdown with 5 red lights. The racers need to press a button once the 5 lights go out and the timing gate says 'Go'. If a racer presses too early, they will get a false start.
Why not test your own reaction time with our free reaction challenge below.
Once you're ready to being, click reset
Wait for the lights to go out
Press space bar as soon as 'Go!' appears and see how fast your reaction time is
F1 IN SCHOOLS WORLD FINALS 2021
In June 2021, Delta X-15 from Gems World Academy Dubai and Team Zenith from Hartland International School took part in the F1 in Schools World Finals.
Both schools secured their place at the World Finals after being crowned champions in the Rookie and Pro categories respectively at the 2020 Yas in Schools National Finals, which featured 245 students from across the UAE.
The F1 in Schools World Finals was made up of 43 teams in total, with representatives from countries including Brazil, Australia, Portugal, Ireland, USA, England, Scotland, Greece and Malaysia.
Team Zenith won the Sustainability Award, while the team were also nominated for two additional prizes – the Digital Media Award and the Sponsorship and Marketing Award.
- VISHAL MENON, F1 IN SCHOOLS ALUMINI
"SIX YEARS AGO IN JUNIOR YEAR IN HIGH SCHOOL, I STUMBLED UPON THIS COMPETITION, WHICH ENDED UP BEING THE BEST THING THAT COULD HAVE EVER HAPPENED TO ME…..THE PROGRAM INSPIRED ME TO LAUNCH MY OWN START UP WITH TWO CO-FOUNDERS WHO ARE ALSO UAE F1 IN SCHOOLS ALUMNI"
- TORQUE RACING – UAE F1 IN SCHOOLS WORLD FINALISTS
"WE WERE VERY FORTUNATE TO ACCESS THE HIGH-QUALITY F1 IN SCHOOLS FACILITIES IN THE YMC SUCH AS THE RACE TRACK, TESTING MACHINES, MILLING MACHINES, AND ETC. THIS IS IN ADDITION TO THE ADVICE AND MENTORING YOU HAVE GRANTED TO US THROUGH YOUR TEAM OF EXPERTS AND PROFESSIONALS."
- JAMES & GEMMA MCCALLUM, PARENTS. PROJECT SPEED F1 IN SCHOOLS, REPTON SCHOOL DUBAI.
"LEADERSHIP, COMPASSION, COMMITMENT, EMPATHY, DEDICATION AND RESPECT ALONG WITH TEAMWORK WERE THE ESSENTIAL ELEMENTS THAT GAVE A VERY YOUNG GROUP OF CHILDREN THEIR FIRST REAL TASTE OF ENGINEERING SUCCESS IN A GLOBALLY COMPETITIVE ENVIRONMENT."
FIND WHAT YOU'RE LOOKING FOR?