STAY ACTIVE
In line with government directives, Yas Marina Circuit is undertaking significant precautionary measures across the venue to ensure the health and wellbeing of visitors alike.
TrainAM is open for all cyclists who are members of the Abu Dhabi Cycling Club. If you would like to find out how to be part of TrainAM, please download their app and sign up for free or contact Abu Dhabi Cycling Club on info@abudhabicyclingclub.com.
Stay tuned to our social media channels for updates. If you have any questions and for more information, please contact our customer service on 800 927.
LIFE IS BETTER ON TRACK
Yas Marina Circuit is Abu Dhabi's number one health and fitness hub. Home to free weekly events like ADNOC TrainYAS Presented by Abu Dhabi Sports Council , TrainAM™ by Abu Dhabi Cycling Club, ADNOC TrainYAS Ladies presented by Abu Dhabi Sports Council and the annual TriYas™ Challenge and more, we play a leading role in the UAE's drive for better health well-being. Offering a unique, safe and friendly training ground to jump-start your fitness, it doesn't matter if you're a seasoned cyclist or walking's more your speed. We welcome individuals of all fitness levels to sweat, laugh and feel inspired on our one-of-a-kind 5.5km F1® track.
1MVISITS
5DAYS A WEEK
185KMEMBERS
180+EVENTS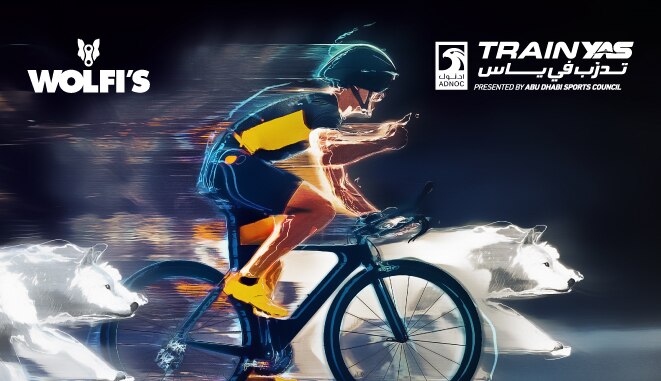 HOW FAST CAN YOU CYCLE AROUND THE TRACK?
Chase the Wolf Gang during TrainYAS by completing a lap faster than 7 minutes and 40 seconds and automatically go into the draw to win awesome prizes from Wolfi's Bike Shop. The fastest male and female lap recorded will also be awarded a prize.
Collect your Timing Chip from the customer service desk next to the Wolfi's Bike Shop container. You will need to leave a holding deposit of AED100 or your Emirates ID with the team. This will be returned on handing back the timing chip.
A Start | Finish timing point will be set up during TrainYAS and cyclists can do as many laps and their fastest lap counts.
Upon completion, return your timing chip and pick up your deposit or Emirates ID.
For this activation, TrainYAS safety guidelines apply including no drafting and no time trial bikes.
Up for the challenge?
Register
for free today
HEALTH & FITNESS
ADNOC TRAINYAS PRESENTED BY ADSC
After things to do in Abu Dhabi? We got you covered. Spend your Sunday and Tuesdays evenings breaking a sweat on our Formula 1® track with ADNOC Trainyas Presented By ADSC
BE PART OF A HEALTHIER UAE